What is School Without Walls?
School Without Walls began life as a collaboration between the egg, Theatre Royal Bath, 5×5×5=creativity and St Andrews Primary School and was inspired by a school residency at the Southbank Centre, London.
At this time, St Andrews and 5×5×5=creativity were already working together on the Esmee Fairburn funded 'Schools of Transformation' project, and so with initial funding from Arts Council England & Ernest Cook Foundation, a School Without Walls pilot took place from 2011-12.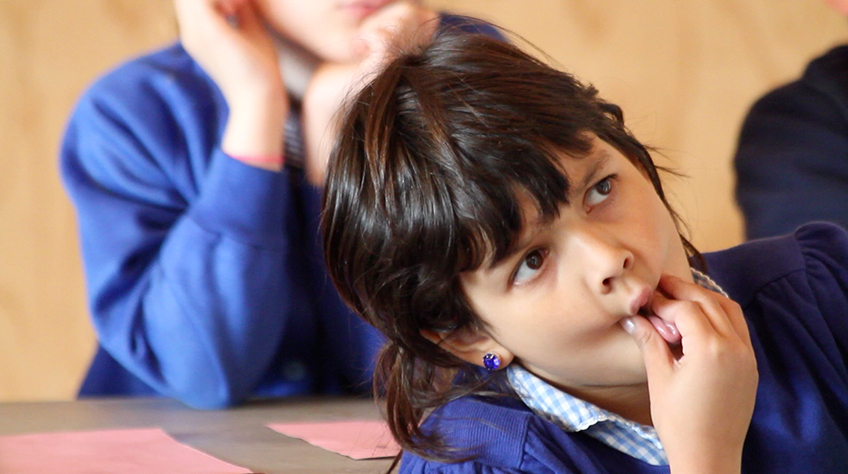 A further successful funding bid to The Paul Hamlyn foundation secured an additional three years of funding from 2012-15. During this phase the project has worked with St Michael's Junior School, Bath and Writhlington Secondary School.
The premise of the project is that a cohort of children take up residence at the egg for 7 weeks over the summer term. They follow a creative curriculum which is supported and scaffolded by their teacher & TA's, 5×5×5=creativity artists and egg staff. The content of what takes places is largely directed by the children through a process of noticing, reflecting and responsive planning. Artists provide 'provocations' which help the children explore themes and ideas. Their responses are encouraged using '100 languages' with the supporting adults facilitating this process.
The project is underpinned by the Reggio Emilia and 5×5×5=creativity approach of allowing children to find and follow their fascinations with the adults facilitating this and scaffolding the learning though a method of co-enquiry. 5×5×5 mentors play a vital role in observing the children and then facilitating refection meetings with the adults to help draw out themes for future lines of enquiry.
The egg is a busy and vibrant venue right in the heart of the historic and cultural centre of the city of Bath and being resident in the venue provides a wealth of inspirational stimuli for creative learning. The plays programmed in the auditorium offer a weekly injection of wide ranging subject matter and artistic excellence; these experiences are enhanced by access to performers, directors and technicians as well as other theatre staff. The plays are quite often a springboard for the subsequent learning that takes place as many have cross curricular and universal themes to draw on. The theatre's location at the heart of the city provides opportunities for children and young people to discover and engage with different aspects of the city and it's culture.
Although there is a baseline structure that each residency has in common, the specifics of the time, place and people involved make every School Without Walls process distinct and unique. Each residency is entered into with a spirit of collaboration and the will to embrace opportunities as they arise.
School Without Walls embodies a philosophy that places the children at the centre of their own learning. By transplanting them into a cultural setting, the conventions, behaviours and habits associated with the 'classroom' start to fall away.